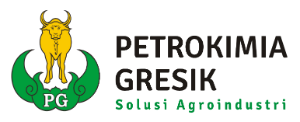 Meaning and Philosophy

A golden yellow buffalo in the Java language known as Kebomas is a tribute to the area where the company PT Petrokimia Gresik domiciled, namely District Kebomas in Gresik. Buffalo is a symbol of the farmers who are loyal companions, not wild, brave, and hard-working.

Five-pointed green leaves petals symbolizing the five principles of Pancasila. While writing PG is an abbreviation of the company name PETROKIMIA G

RESIK

.

Golden yellow color in the picture buffalo represents majesty, triumph, and magnanimity. Mix and match the green sepals five-pointed depicting fertility and prosperity.
PG white writing reflects purity, honesty, and purity. While a black border on all components of the logo represents the authority and elegance.
The black color in writing of the name of the company symbolizes the depth, stability, and firm faith. Strong values that always supports the entire work process.
update 200219